Sex Games Devil, one of the premiere porn game developers, is the brainchild behind 3dxchat. As it stands today, 3dxchat is one of the most popular porn games online. Its been downloaded hundreds of thousands of times. Its fan allegiance is like no other.
But is it worth your time or money?
3dxchat Review – The Initial Takeaways
3dxchat is a porn game where the player takes his or her sexual fantasies by the horns. In other words, you control your fantasy. 3dxchat is a virtual sex dating fantasy porn game. Wooo…that's a lot of lewd buzzwords in one description, but it is fairly accurate.
Meet real people all over the globe and align and combine your sexual fantasies. And then play them out. Sound hot? A lot of people dig this new porn game style.
First and foremost, 3dxchat members are mostly an English speaking bunch. You must be 18-years of age to play (because, of course). You'll find members residing in the United States, England, and Australia.
From a technological stance, 3dxchat uses real people having real sex as their models for creating the sexual fun players experience. Clearly, that's a costly and time-consuming endeavor and a major reason 3dxchat separates itself from the herd.
The sex flat out looks real. And you can coordinate a diversity of sexy and kinky experiences via this immersive technology.
Between you and another player, you create your own porn video experience. And most likely you fap, or even mutually fap, to this content. Horny yet? I bet you are. I know I am and that is making it tough to write this 3dxchat review given my laptop rest on my lap.
You'll create a username almost as if you are signing up for a social network. Once in, you'll begin meeting other new folks interested in sex. Mostly, these are online connections that don't pan out to real meetings, just so you are aware. If you are wanting to meet flings, try Fuckbook or Tinder.
You will download the game and set up an avatar. You will need to create a short bio and maybe add in your location. Location can be important due to time-zone disparities with other players. But you can pass on the location part if you aren't comfortable.
Your avatar creation is an extension of you and your new sexual glory. You can customize your avatar into the fantasy you seek. You can also create an apartment where some of your sexy time can go down. 3dxchat builds in bars, nightclubs, and beaches that help infuse reality into its VR sex world.
3dxchat Costs
$19.99 monthly
$59.99 twice a year
$91.99 annually
Interface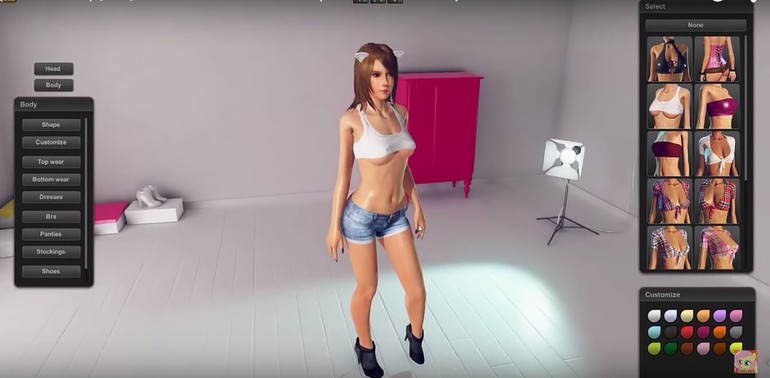 The 3dxchat interface is super clean and ripe with physical attribute options. 3dxchat consistently updates its interface as a bonus, so things don't get stale. As you can see, the interface is easy to navigate and to the point.
3dxchat Graphics
3dxchat graphics are insane, there's nothing else to say. I believe that most of the characters are very mainstream hot because they are built on the fantasies of real users.
3dxchat is a premiere virtual sex reality game. Its played by thousands of users around the world, mostly English speaking. You download the game and there are some free options, but to have real fun, you'll need to pay up. It can be a bit expensive. The graphics are mesmerizing. You will meet real people and experience the sexual fantasies of others.
3dxchat is an immersive game. You can become addicted in short order if you aren't cautious.
If you don't mind spending some cash, 3dxchat can be a pretty fun play.