Looking for a devilish good time with sinister sexy girls? Chick Wars is a porn game ripe with outlandish, stunning, and sexy furry monster girl sex. You lead an army of warrior hotties who can't get enough of your dick.
Some call it "Cunt Wars." That's possibly a more fitting name for a game featuring a battling female harem. In Chick Wars, it's all about the sex and violence. There's not much of a plot to speak of, mostly due to lack of plot development. All of the developer energy seems to be thrust into creating wretched monsters and vivacious, sexy warrior girls. And the game doesn't attempt to hide such.
You're from a poor family with not two pennies to rub together. You're jaded by your circumstances, yet motivated to change your life.
So you decided you intend to rule the world.
In order to do so, you build an army of sexy military girls who happen to also be horny as all hell.
Now these girls aren't all just warrior-mode. They are porno-mode as well. They will suck your dick and let you fuck them practically as much as you like.
You're job is to train these girls up for fighting battles while also getting laid as much as possible.
Tough job, eh?
But don't expect much in the way of an erotic narrative. Right before battles, you get some liaisons with enemies, but otherwise, it's flatly a fight and fuck event. You may not even know why you are fighting an enemy.
You may get some cheesey dialogue before you bang a warrior hottie.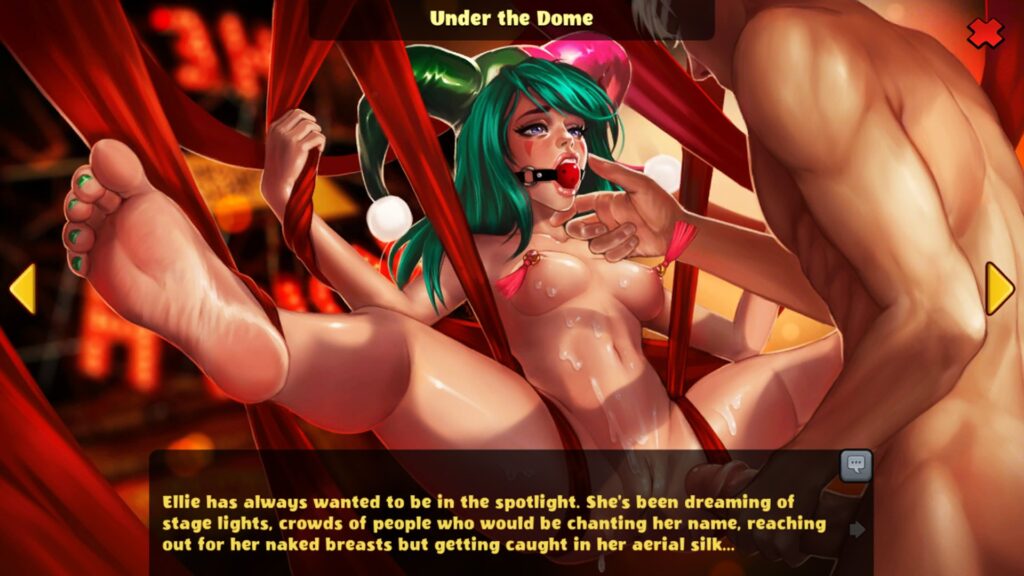 Chick Wars is built entirely around it's insanely eye-popping graphics. And that's fine by most who play this game because they aren't looking for the next erotica novella anyways.
Graphics
Flat out, Chick Wars graphics dazzle and turn you on. This game wins when it comes to hentai porn art. Its a truly insane experience. These mesmerizing graphics are likely the core reason there isn't much of a plot to speak of.
The furry sex girls are extremely detailed, hot, and at times, built so sexually it blows your mind (among other things).
Even minor details such as maps and background scenery fly off the screen with vibrant colors and soft edges.
The graphics are really what careen Chick Wars to a top ranked mobile porn game status. Probably some of the best porn game graphics you'll ever come across.
Seriously, this stuff is insane…
Additionally, Chick Wars surround sound effects are top-notch. It's a great audio experience that really adds to the sex scenes.
Costs & Technology
This is a free porn game that doesn't try upgrading you. It works on Android and PC, plus any browser so iPhone and Mac folks can enjoy.
Conclusion
Chick Wars is available on Nutaku's game platform for download here. The graphics are insanely good which makes up for a lackluster, hardly existent plot-line.