Dreams of Desire is a porn game that utilizes super high-quality dating simulation as its core component. Within the game are a number of erotic stories involving hookup lifestyle scenarios. As a porn game, Dreams of Desire offers an immersive, intensely sexual experience. Dreams of Desire is a top mobile porn game, though it is not free.
About Dreams of Desire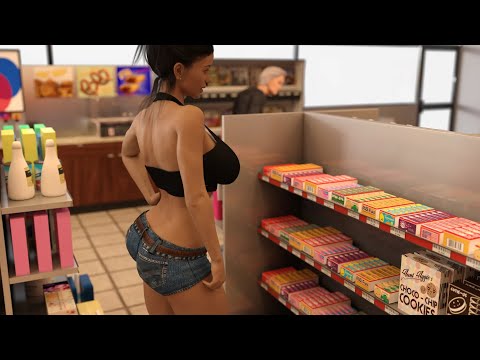 At the base level, Dreams of Desire is an erotica novel. There are several pieces of erotic that involve incredibly beautiful women and a man, you, who navigates the environment hoping to get laid.
The erotica offers decisions that you make in order to work your way through the environment. You're choices affect how things work out. When it comes to porn games, the balance between erotica and "game" weave tightly and salaciously the entire game.
Many of the stories are complex in nature, often amounting to puzzling mysteries. The idea is that as you work through an enigmatic tale alongside a sexy girl (or girls), you become more and more aroused.
Dreams of Desire offers intense sexual fun, from soft nudity to hardcore banging all the way up to BDSM. Dreams of Desire can be considered a fetish porn game due to its bondage plays. But because its artistry and graphics are soft and high-class in feel, the fetish side of the game is often lost on people. That is until they sit down and play.
Dreams of Desire also features a lot of XXX and unsavory material and concepts, such as drug use. One story features a small-town military guy trying to come to terms with a drug sex ring. All the while, he's banging super hot, almost high-end escort-type girls. 
Dreams of Desire Review: Graphics
Let's be honest, in porn games, if graphics are lackluster, the entire virtual experience is compromised. In Dreams of Desire, there are no such concerns. The erotic artistry is both identifiable and intimate. While the girls are less blemished than we'd find in real life, it works with the idea that this is your fantasy dating scenario.
Dreams of Desire girls are busty and voluptious, consistently in a seductress mode, and explosivelly sexual in nature. The settings are realistic and almost a little too perfect and too tidy. But this simplicity alongside a slightly blurred out attribute ensure its never the focal point. You're always looking at the girl, your date, not what's in the background. That said, the sets make you feel as though your in a modern lifestyle condo or home.
Artists depict intimacy using deep shadows and tight shots. The moments prior to locking lips can feel overly stimulating. In other words, its as if you are in a real life pre-make out situation. And that's what it is all about.
Cost
Around $15 a month.
Conclusion
Erotica tightly wound in edge of your seat mystery, Dreams of Desire is a super hot erotic dating simulator with lots of bells and whistles. Its not hard to get your jollies off to these sexy graphics while reeling from plot twists. If you've got the extra cash, this is a pretty fun mobile or desktop porn game experience.