Do you desire intense domination at the end of a sexy woman's whip? Ever wanted a hot girl to spank you? Do you get aroused thinking about a beautiful woman forcing you to kneel before her?
Lastly, have you browsed BDSM dating sites only to jump and run from the computer for fear of the consequences of following through?
Well I'm here to tell you that your world is about to change. Dominatrix Simulator has arrived and its a captivating virtual reality BDSM porn game experiences. You don't need to leave your home or risk meeting a bad human. You only need to put on your VR headset and follow your dominatrix's commands.
In our Dominatrix Simulator review, we look at the hottest new virtual reality BDSM porn game online.
BDSM fantasies aren't as unique as you think. According to BDSM stats, over 60% of women fantasize about BDSM play while over 50% of men share the same desires. Of course, those are big numbers and most of those people won't follow through. Some of them may lightly spank a partner hoping that neither of them feel awkward.
One of the biggest hurdles in experimenting with BDSM is that most people are too scared to try. That's because only two choices present themselves: You can talk to your current signifigant other (but most people find talking about wanting their wife to spank them awkward), or you can meet someone online (but that can be risky).
Fortunately, virtual reality allows people to experience other worlds without incurring typical risks. That's what Dominatrix Simulator is all about – allowing people to enter a world of BDSM without risking their marriage, or their safety.
Dominatrix Simulator Review Introduction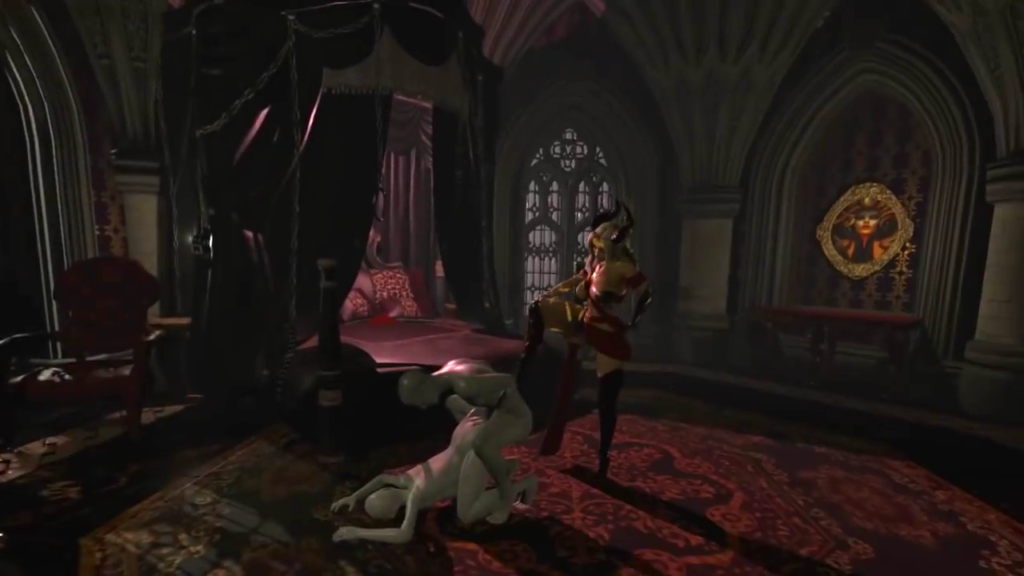 Dominatrix Simulator, at its core, focuses on a world of BDSM embedded in an idea of consent. This is a positive ideal because consent in BDSM is incredibly important. Clearly, the need for safe words allows men and women to exist on a sexual fringe, but pull back when needed and at a moment's notice.
To begin Dominatrix Simulator, you decide your gender or choose a gender fluid option. Following that decision, your FemmeDom enters the picture and you're best to obey commands as they come in. The commands subject you to activites that you do in your home. In other words, you perform real acts at the behest of your presiding goddess.
These commands begin simple. Raise your hands, kneel, pay attention. While wearing a VR headset, the goddess can sense if you are engaged. Look across the room, punishment awaits.
You can turn down commands as this in a consent driven virtual BDSM experience. And Dominatrix Simulator allows for therapy sessions (no joke, and this is a good thing).
Dominatrix Simulator Graphics
With any virtual reality porn game, the most influential component remains graphics. The very nature of virtual reality are the graphics. We can't argue that point.
Dominatrix Simulator graphics pass the tests. Now, I don't find these graphics to be at the level of say, Holodexxx, but the fact that this goddess commands you helps bolster their effectiveness. With BDSM virtual reality, graphics can be a bit subpar so long as the domination aspect is on point.
For that reason, I feel Dominatrix Simulator graphics win.
Here's a closer look.
Clearly, Dominatrix Simulator represents a dungeon-like environment. We expect that. There's lots of commands you must follow. And the simulation projects to your onscreen avatar. This makes you feel as though you're really there.
Dominatrix Simulator Devices
Oculus Quest
HTV Vive
Oculus Rift
PC
Dominatrix Simulator is available on Steam's store but you must be 18+ and logged in to access it. It's a top virtual reality BDSM porn game experience that's also finding success in mainstream. The game's graphics are good enough considering the concept of the game is very enthralling. Dominatrix Simulator is a fun play for those who may not want to risk meeting a random person for their first BDSM experience. Some of Dominatrix Simulator's value is found in its consent-driven environment. The game teaches newbies to put their safety first.
BDSM can be a fun way to relieve stress and enter a fantasy world. But you must do so safely. Practicing safe BDSM play even in a game is essential.